"Coir" the golden fiber that tied relationships across the globe with Kerala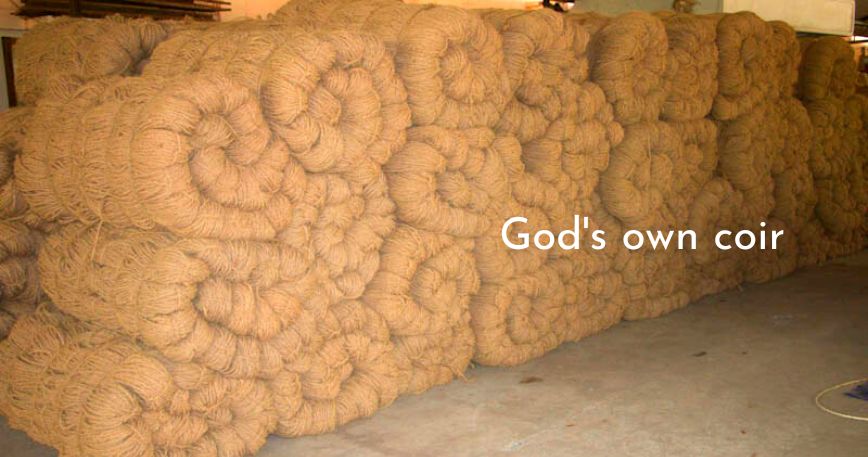 The coir yarn or the coco fiber yarn as it is known is so strong a natural fiber that travelled the world as ship cables from Kerala to other continents.
It generated a curiosity among many people around the globe and they started experimenting with the new rough and strong yarn. Some of them found it amazing and the strongest fiber used in their times. They travelled to Kerala in ships to find Coir fiber yarns.
It was a starting of a long and productive trade relationship between many continents. Soon coir fiber from Kerala became popular and it is largely exported through the wooden dhow from the Malabar region of Kerala.
Coir carpets and rugs have revolutionized the floor covering industry for it was the best in terms of quality, durability and strength. It showed surprising properties in winter season. This attracted more people around the world to come to Kerala. They came to know more about coco fiber and find the next good thing from the incredible fiber.
Alappuzha – The Coir Capital of the World
Growing demand of coir and coir products created many industries in Alappuzha in Kerala. Simultaneously many industries based on coir started in Europe. Alappuzha became the land of coir and coir industries and it is still the Coir Capital of the world.
The coir industry provided jobs and people found a secure means of living. The popularity of coir made people in this land skilful. They could make anything from coir and they keep on creating new, functional and sustainable products every day.
In Kerala some pockets started making a particular quality of coir. According to the product they started making different grade coco fiber yarns. And they are named as "Anjengo" fine and thin and " Vaikom "rough and thick.
The coir mainly started knowing by the land's name where it is made. The people in the industry know the quality and features of the fiber when they hear those particular names.
Coir created a trade relationship with big and small companies across the world. Some of those collaborations went beyond business and people became friends. That friendship is handed over from generation to generation.
I met a girl, her great great grandfather came to India and bought coir and started an industry in the European continent. The next generation continued the business; they came back to the same people. They learned more and co-created new products according to the market demand.
After centuries the younger generation travel to Kerala, walk through the same streets their grandparents travelled to check the quality of coir, to meet people to have small discussions and co-create products. It's a mingling of two cultures, respecting both and making it a new space to interact and do business.
The fiber extraction and making ropes
Needless to say in earlier times every process of making yarns were without any machines and it was time consuming and tiresome. The husk of coconut is removed and kept in the water bodies to make it soft.
In a couple of months the husks are taken back and beaten with iron rods. So that the fiber gets separated and the small waste particles are removed (This small waste particles became highly sought after coir pith many years later – in our current times).
Now the industry is highly mechanized with higher levels of productivity. As in any industry still there is handmade and hand woven techniques used in coir industry as well.
We in Craftpair use natural retted hand twisted coir yarns for our baskets and mats. In products you can see Anjengo, Paravur Hardtwist and Managdan. The product decides which yarn it need!
Anjengo – Soft and fine – Best for carpets, placemats and small furniture. Anjengo coir yarns are hand twisted from southern regions of kerala
Parvur Hard Twist – Rough, Strong and Uniform best for baskets
Mangadan – Strong and thick best for big baskets
https://www.linkedin.com/feed/update/urn:li:activity:6913890170257772544
How coir yarns might have discovered? *
Coconut is a great gift from nature and it could have been a curious discovery. A hard and big bowl shaped fruit in very tall trees. The people might have opened the husk of the nut expecting something to eat inside. Surprisingly inside it is a rock like ball and it is very difficult to open. I think many might have stopped exploring coconut at that stage.
Experimenting nature of human being's made them to open the hard shell. They could drink sweet juice and delicious creamy flesh.
Coconut might have used as a fruit or nut for the flesh water for centuries and shells might have been used as bowls. How it might have started – the idea of extracting oil from the coconut. Making paste and using in curries might have made them think about extracting oil from the coconut.
Until recently Keralites used coco fiber as scrubbers for cleaning bowls and as bathing scrubbers. Coir yarn might have an innovation out of a necessity. That innovation changed the way people look at a coconut and its tree.
Thanks to technology all those products are came back in better aesthetics and available for us to use. The coconut shell bowls, scrubbers, spoons and many more. With centuries it evolved into a thousand products in our daily life and that became means of living for million!
*It is an imaginative content of the author
Why coir is so relevant in the modern times?
The core feature of any natural material in our age is its "sustainable properties" in our era. Coir carries a bundle of other attributes along with sustainability. It is strong and rough that makes it an easy raw material for industrial use.
Coir Geo Textiles
Coir geotextile is finding wide applications as soil erosion control and water conservation projects. And it is used in sea erosion control because of its high resisting property in salt water. The geo textiles find it's use in construction of roads and railways. We need to remember here is a natural/organic material is replacing plastic in multi levels.
The uses of geotextiles in landscaping has a multi angle benefit. It adds to the beauty of the space and prevents the soil and nutrients from getting wasted. It helps in faster root growth and better drainage.
Coir Needlefelt
Coir needle felts have a set of properties and applications; it is beneficial in small and large gardens. The technology has made all those products possible with coco fibre to reach us our home. Small planters to long mulch mats in needle felt, gives us solutions in small gardens to big farming set up.
Coir Twines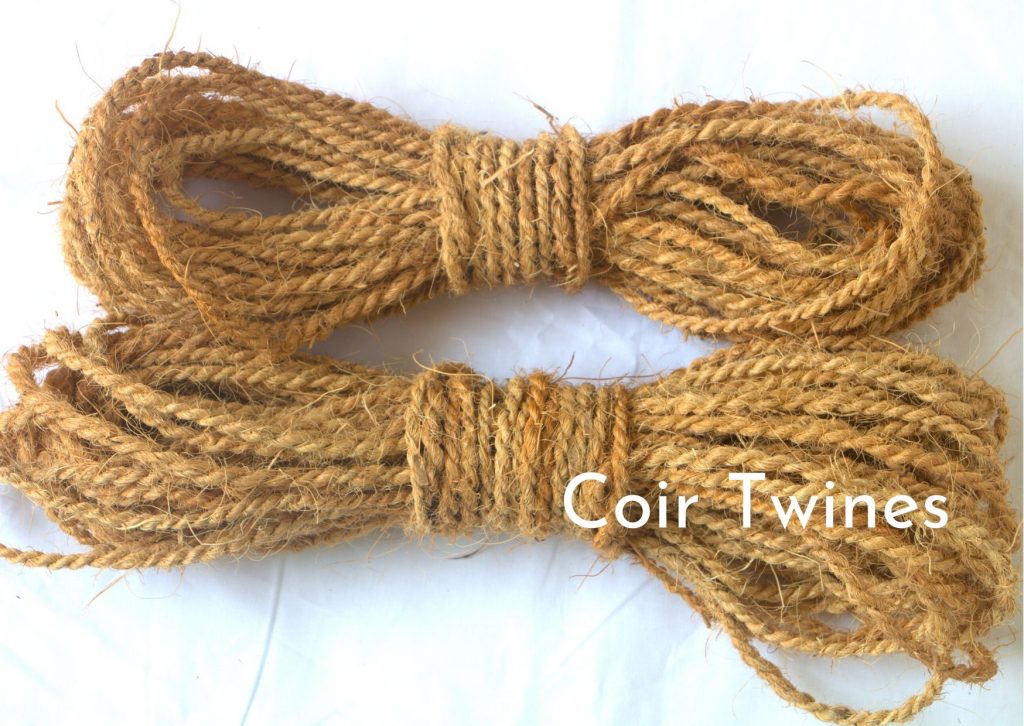 Coir yarns are the best rope for climbing plants and creepers. The coir ropes and plants falls in love with each other very fast.
These ropes are widely available as small bundles for DIY projects. Here you have the confidence of using natural organic materials for crafting.
With coir we are not forcing ourselves to sustainable living. Coir has it all to assist and help us in an earth friendly carbon neutral daily life. All we have is a satisfaction of having a superior quality material that adds beauty in our world without altering any properties of our environment.
Coir as one of the best natural and sustainable fiber in the world continues to connect people from different regions of the globe in a productive way.