The coir basket journey
Hand woven coir baskets are our first collection and the one gave us hope, showed a road of opportunities and lead us to create many sustainable products. Our coir basket journey was an interesting and learning experience.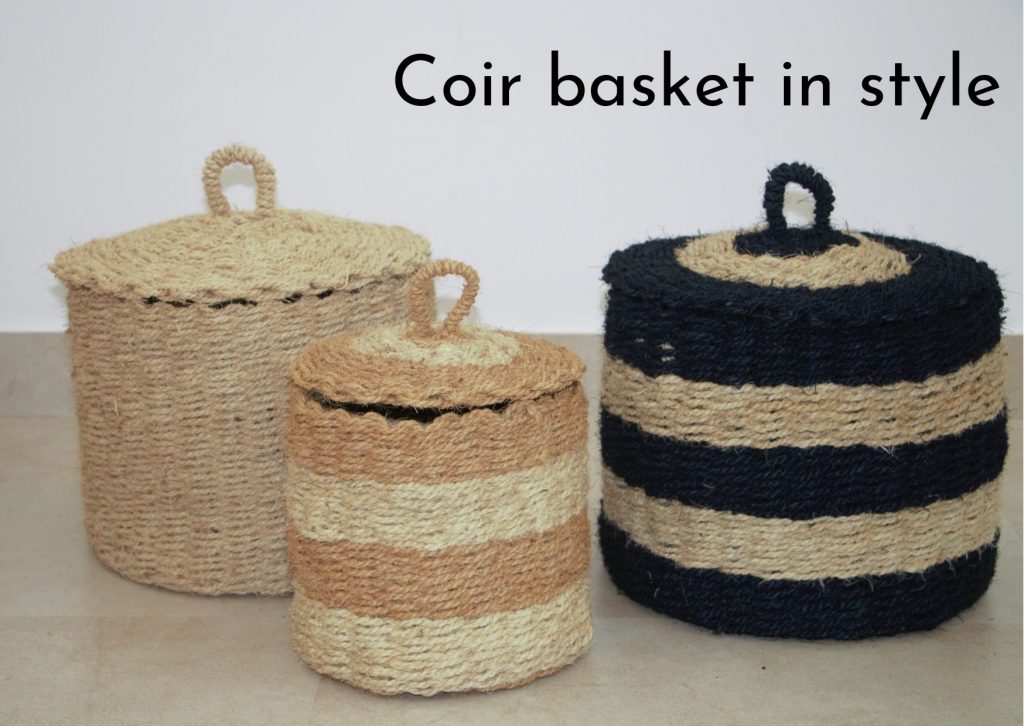 Starting of the basketry
Back in 2017, we were short of materials to make storage baskets. We travelled a basket journey of materials, designs, trainings and learning and had to stop at a point and from there I was left with no options. The grass we used to make was no longer available; also it developed fungus.
I literally didn't know what to do and made few promises to some clients and was thinking about that. Few days of desperation direction less running of mind and some mechanical activities was the life for me. It was like I am alone with Craftpair and I don't know what I can do with it?
But I had to do something and gradually my interaction with crafts, people and materials opened small doors. It showed me the sustainable route – try to make things with whatever is available around us.
Identifying coir yarn for baskets
Coir was the first material I felt I should try because it was available all around us. We started with coir and soon realized all coir around us is not flexible and strong enough to make baskets. There we realized we need hand twisted coir for the baskets, it has to be uniform to make the weaves flowing and beautiful. Learning by doing is best possible way of mastering anything.
We successfully made baskets with coir, it was rough and hairy, but it was strong, water resistant, fungus resistant and bio degradable. We kept on making baskets and in the same year 5th of June – on the occasion of World Environment Day 2017 we launched our Hand Woven Coir Basket Collection.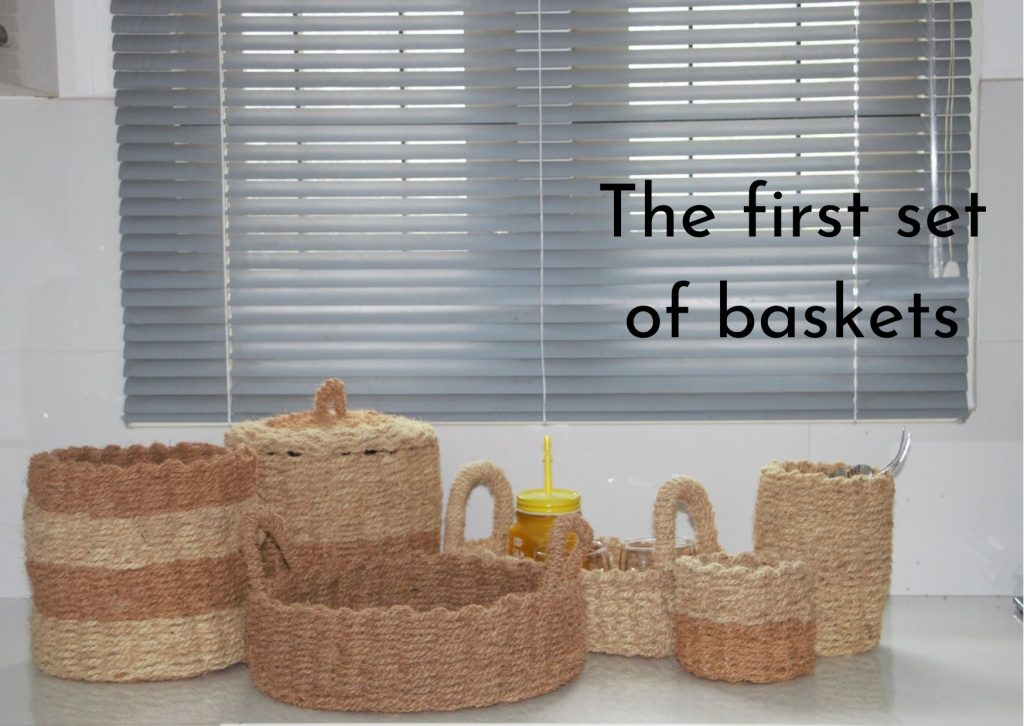 Coir -The Strongest Natural Fiber
The experience with coir fiber gave us confidence, for it is a superior fiber with many attributes. We started talking to our clients about the coir baskets. Very few people accepted it, but we didn't stop there we continued our journey of creating more. We made functional baskets for kitchen, coffee table trays, bread baskets and the list went on.
We knew coir baskets are Eco friendly and organic it is convenient and trouble free and people will come for that again. And our hopes worked and we have now an incredible collection of coir baskets for varied uses. And our clients are happy with the experience they can give for their customers.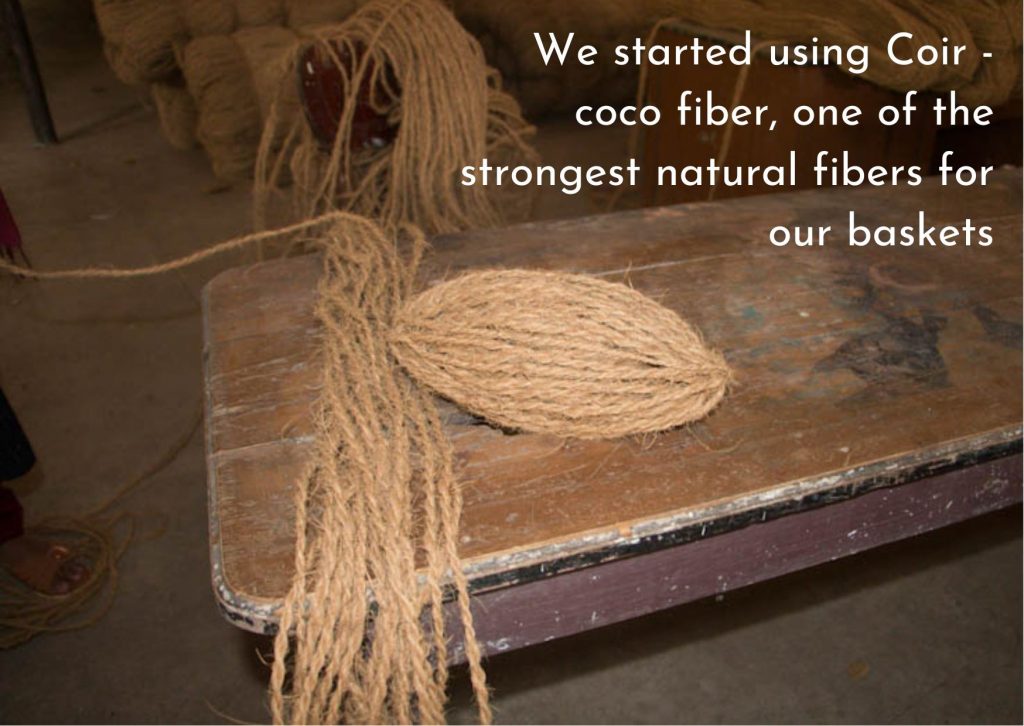 The baskets made of it are biodegradable. It can be cut into small pieces and added to the potting mix and we can make the plants happy; isn't it amazing!!
The challenge of making hand woven products
And when the production progressed there were more orders and we had few people, few ….. But the best and they became the masters. We started training people thirty to forty at a time, in small halls, in some cooperative societies and among group of women. It was full of energy and excitement. It's so wonderful to see the shining in the eye's of the ladies when their baskets take shape and come out well.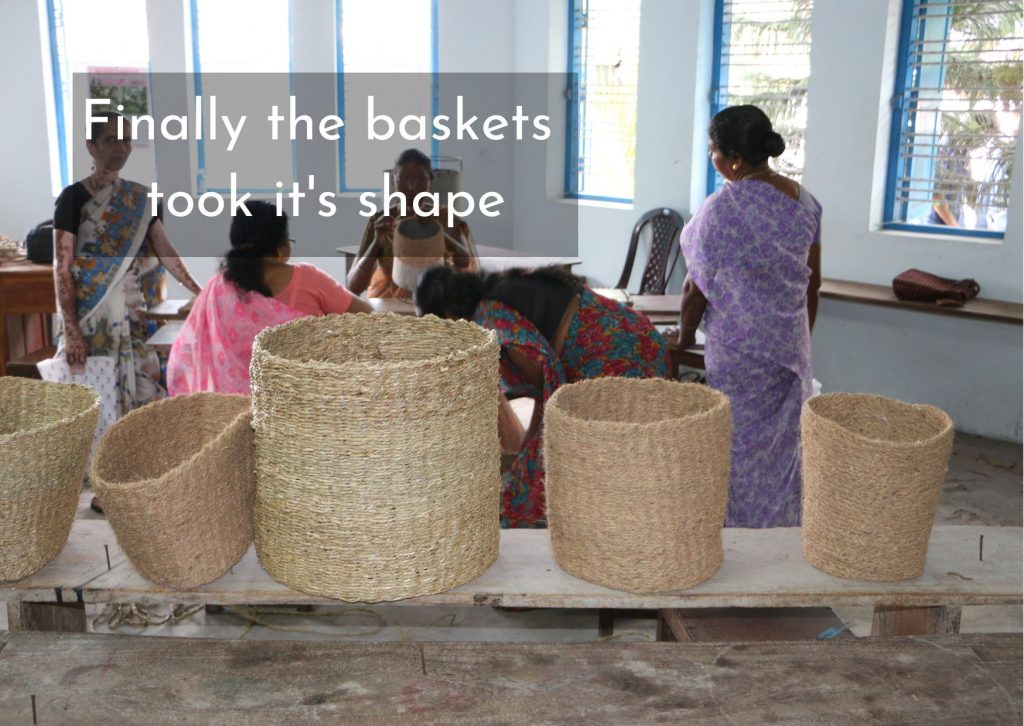 Their feeling that they can also do it increased my level of confidence. It continued for some time and we saw things were not working again. Most people we trained took it as a mere hobby to learn the art of basketry and were not ready to work full time.
The new strategy of adding one person at a time
We saw things in a different direction of training one person under one master and absorbing the person into the system gradually. This worked and people are happier in such a format. May be the hand holding and the personal care and interactions made the atmosphere more creative and productive.
The working from home
We have realized that the hand woven products can be made from artisan's home more efficiently. It is convenient for them. Flexible working time is something we should offer to people who are so creative and committed. A 9 to 5 office can't give them the atmosphere of creating the best, for there is some points and progress in weaving a basket.
If it's about making the warp it has to be done in one stretch. So as to make the frame work stronger. This is important in weaving and it makes the baskets are sturdy. That cannot be stopped in half way.
Once they start the weaving again same rule applies you can't stop it with clock it is a subconscious space that they create, start and stop accordingly. Here its better we don't interfere. We do quality check on the finished products in equal intervals.
The two generations in basketry
The first generation weavers of Craftpair works from home and the second generation works from anywhere – home or unit. It is a hybrid system of working from wherever comfortable. It is planned according to the situational demand. And we have a committed team of weavers they share a common invisible thread of communication. So that they can work in a rhythm and create best possible baskets.
The coir basket weaving cycle
Yes; we can call it a weaving cycle its starts from selecting the right yarn for the particular basket, we use Anjengo, Mangadan and Paravur Coir Yarns for our collection and we source it from a very special vendor in Kollam. They take time, put extra efforts and give us the best possible yarns; it's also about having right relationships and openness between the people.
The yarns reach Craftpair and natural yarns are distributed as such to the artisan's houses for making the coir baskets. If the collection has colors and patterns the yarns are dyed accordingly and distributed. Initial checking happens from the artisan's homes and the finished baskets are collected from their homes.
It's like Harvesting – The season's best moment!
The basket journey was rough like our coir baskets but it is fulfilling. Sometimes it's about the rush of me driving to their homes to collect the finished baskets and head to the packing point.
A Basket Car – Regular Sight at Craftpair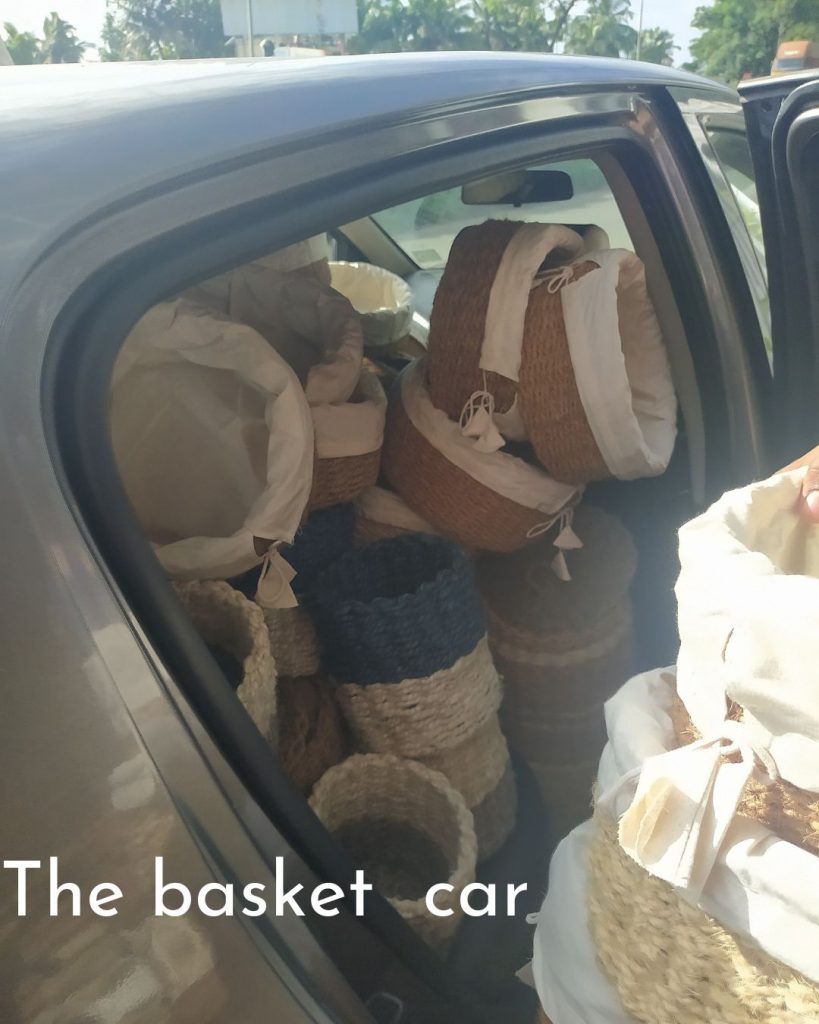 Always there is a feeling that the baskets are not enough for the order, and when finally we pack there will be excess. From twenty to thirty baskets in a month we have reached to hundreds and thousands. It is all because of the dedication of the team Craftpair to each clients and your love to sustainable products.
We pack the baskets with lot of love and care. The packaging materials are mostly sustainable packing. We ship the packages and wait the baskets to reach your place. Your photos and comments are very vital each time.
We are listening for all those comments because we add new designs every month to our Coir Basket Collection. You make us do that with those nice and not so nice comments and never ending demands.
https://www.linkedin.com/embed/feed/update/urn:li:share:6982744115817893888